The Last Apprentice
Written by Joseph Delany
Illustrated by Patrick Arrasmith
Reviewed by Jimmy D. (age 9)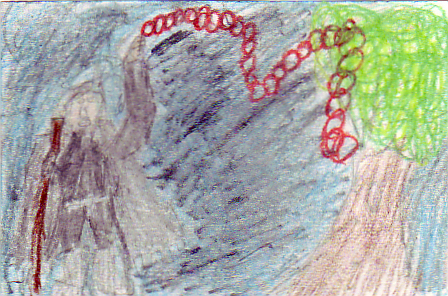 I enjoyed reading THE LAST APPRENTICE REVENGE OF THE WITCH by Joseph Delany. It is about a boy named Tomas J. Ward. He is about to become the last spook. The spook keeps the village safe from monsters. The old spook Gregory has to teach Tomas everything he knows to be a good spook. One day a girl Tomas likes tells him to feed a witch in a pit. The witch is in the pit because she is a threat to the village. The witch gets stronger and gets out of the pit. The only hope is Tomas.
I like this book because the scary ghosts and witches are mysterious. The things they do are unexplainable. The main character is a human but the villains are witches and monsters. Another reason I enjoy the book is all the pictures are black and white. That makes it scarier. This book made me wonder about when Gregory was the apprentice because he always warns Tom, "Don't do that. I did that when I was your age and something bad happened to me." I always wonder what had happened to Gregory.
As I read this book, I felt jealous of Tomas and in other places, I felt sorry for him. I wished I could do some of the things he could do in the book. Other times I felt sorry for him because the witch hurt him and things just kept getting worse. This built up the suspense even more.
I would recommend this book to boys who like adventures, fantasy, and scary stories and movies. I would recommend this book to boys ages 9 to 13. Most girls would not be into the kind of adventures the main has in this book.