The Kid Who Only Hit Homers
Written by Matt Christopher
Illustrated by Harvey Kidder
Reviewed by Kris D. (age 10)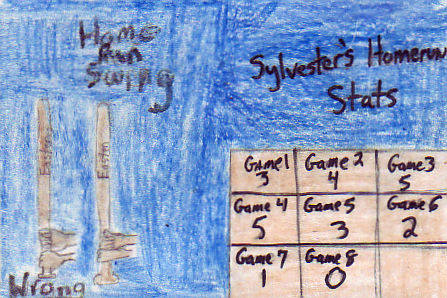 Do you like baseball? If you do, The Kid Who Only Hit homers is a book for you. It is about a kid named Sylvester who thought he was bad in baseball. Then a man named George Baruth tried to help Sylvester get better by making him chock up on the bat. Will Sylvester get better, or is it another kid who becomes the homerun king? Read the book to find out.
I like this book for many reasons. I can relate to this book because Sylvester starts out playing bad but then gets better. This is like my life. I started out not too skilled but then I became one of the best players in the league. I also like this book because it is about baseball and I like to watch baseball and play it. I could see the games and actions in my head.
I could tell this was a Matt Christopher book because it is about a kid who has a problem but then he learns a lesson through sports. In this book the lesson is don't give up. As I read this book, I could see the changes in Sylvester. You could see his confidence grow as you read.
I would recommend this book to kids from ages 8 through 12 because it is about baseball and usually kids begin to understand baseball at ages 8 to12. Knowing about sports helps when you read a Matt Christopher book.