The Mystery of the Bad Luck Curse
Written by Laura Willilams
Illustrated by Laura Maestro
Reviewed by Lauren B. (age 10)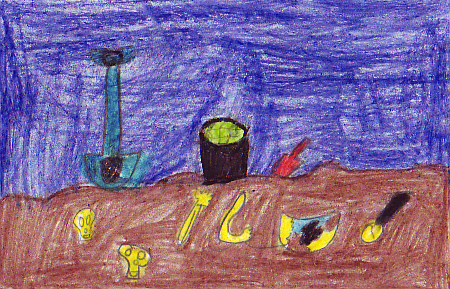 Do you believe in different types of curses? Well… The Mystery of the Bad Luck Curse by, Laura E. Williams is the book for you. Jen and Zeke, twins from Mystic, Maine, are on a field trip to an archeology dig. Their tour guide told them that early settlers died on the site they were digging on. The twins became very interested in what the college students were doing at the dig. One day, Professor Murphy, one of the head archaeologists, told everyone who works at the dig he found something that would prove how the early settlers really died. The following night a few of the objects disappeared. Will Jen and Zeke be able to find the missing objects before it is too late?
On a scale of one to ten, I would rate this book a ten because it was very suspenseful and exciting because something new happens at the dig everyday. My favorite part is when Frank and Professor Murphy begin arguing about how the early settlers really died. This is my favorite part because I have to try to decide who is right. It is hard to decide between the two head archaeologists. My least favorite part is when Frank and Professor Murphy argue for no reason. Some arguments can go on for two or three pages.
The author did not put many pictures in the book. I think she was right to do that because with the excellent detail and description she put in she painted pictures in your head. When you got to a picture, you can see if the picture in your head was close to resembling to her picture.
My favorite character is Jen because she takes action and does most of the talking for Zeke. Zeke always disagrees with Jen like when she wanted to go to the dig at night. I think Zeke was a chicken!
I would recommend this book to kids in grades 3 to 6. I would also recommend this book to mystery lovers because you are left hanging and the mystery remains unsolved almost the entire book. Mystery lovers would never want to put it down with all of the suspense and the detail. Kids who are into digging and looking for fossils and certain types of rocks would enjoy this book because it takes place at a dig. It is hard to recommend this book for just boys or girls because Jen and Zeke are a boy and a girl. I personally think everyone would enjoy this book!