A Dog's Life
Written by Ann M. Martin
Reviewed by Jennifer H. (age 11)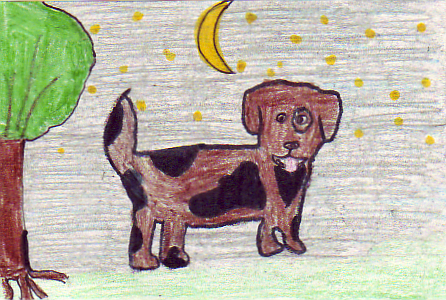 Squirrel is a stray dog born in an abandoned shed. When her mom leaves and never comes back, Squirrel and her brother Bone are forced to be on their own. All they have is each other. Throughout the story, Squirrel's life is mostly a series of unfortunate events. When things take a turn for the worse, Squirrel and Bone get separated. Squirrel starts looking for her brother. Her search leads to fights, friends, and an extremely surprising ending. If you want to learn more about Squirrel and her adventures then you should read A Dogs Life by Ann M. Martin!
I liked A Dog's Life because it is being told from the point of view of a dog, but not just any ordinary dog but a stray dog that goes through many unfortunate events. For example, his mother leaves Bone and Squirrel because she thinks they are old enough to take care of themselves. It is really sad! It is also my favorite part. A lot of books I read about animals are being told by a narrator, not the animals. Having Squirrel tell the story helps me understand what's going on and helps me understand her feelings. Even though it is sad that the mom left, this event starts the whole story. That is why it is my favorite part. If this didn't happen, Squirrel might have still been living in the shed today! When I read this book my feelings where like a roller coaster, I was happy then I was sad, I was happy then sad! This is also my favorite book because it makes me very emotional. A lot of the events are horrible things but some are good. It is sad when Bone and Squirrel get separated but because they do, Squirrel makes a new friend! I was glad she did!
I recommend this book to people of all ages who enjoy adventures and friendships. It is also a great read for people who have a love for animals! I recommend it for the adventurers because when Squirrel and Bone go off to explore the real world they always end up in some type of adventure. It is great for people who like friendships because Squirrel meets her best friend and that friend helps her survive. It is great for animal lovers because, well, the whole book is about dogs and life from their point of view!