Kringle
Written by Tony Abbott
Reviewed by Julia S. (age 10)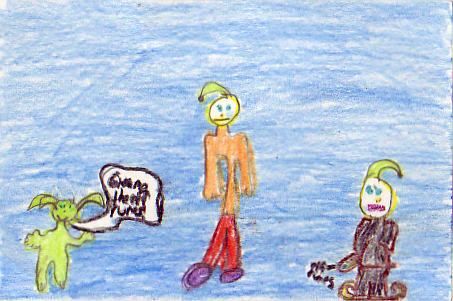 Have you ever seen a small, green, devil-like creature? Well, if you have, you're not alone. In the book Kringle by Tony Abbot, a young boy named Kringle faces thousands of these small green creatures. With the help of elves, pirates, a priest from Rome, the townsfolk and 12 new friends, Kringle fights to save the world. The boy has had a hatred of these small, green creatures since he was little. They are known to steal children and never let them go. They also killed his parents and have stolen his only caregiver, an old lady named Merwen. The little green creatures are so greedy for power that they have stolen all but 1 of the powerful elf runes. Their goal is to take over the world. With the creatures' final quest only days away, Kringle, with the help of his new friends learns about his past and attempts to save the world. What secrets does Kringle learn about himself and will he defeat the creatures? Read Kringle by Tony Abbot to find out.
I loved this book. The author's style is interesting in Kringle. You don't know whose point of view the story is from until the end. This keeps you thinking. The story also uses phrases like "the boy" and uses descriptive words that interest you and make you want to read more. The pacing of the story is fast, exciting and suspenseful. It is a page turner that makes you want to know more. Tony Abbot puts cliffhangers at the end of each chapter.
I like the character Kringle. He reminded me of my friend Caroline. Kringle wanted to save every one of the big eared, green creatures and I think Caroline would do the same if she were in his place. She is brave and likes to help people just like Kringle. The genre of Kringle is fantasy. Elves aren't real but the author does make them seem almost nonfictional and they are definitely interesting. It makes me want to see if Tony Abbot does the same with the rest of his books. In this book, he makes fiction seem like nonfiction, which means he's a great author in my opinion.
I would recommend Kringle to readers of any age. I would recommend this book to any age because I believe all ages, whether 5 or 50, enjoy humor. Also, sometimes everyone just wants to get away from the realistic world and sink into a world full of elves, pirates, townsfolk, and evil little creatures. This book would be great for someone with a sense of humor and a love of fantasy.