Janitor's Boy
Written by Andrew Clements
Reviewed by Alison K. (age 11)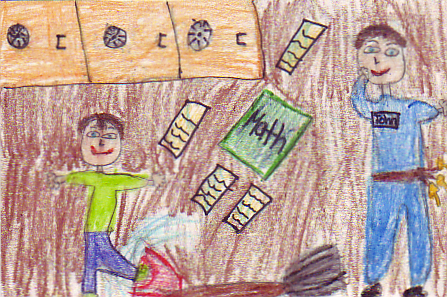 Have you ever been humiliated by your parents before? Well, this is how Jack Rankin feels all the time because his Dad is the school janitor. In the book The Janitor's Boy by Andrew Clements, Jack ruins a desk by putting a humongous glob of gum all over it. As a punishment, he has to be a custodian for three weeks doing "gum patrol." This is bad news for Jack because now he will be spending even more time with his embarrassing Dad. The worst part is that kids are making fun of him at school and calling him "Gumbo." At first "gum patrol" is miserable for Jack, but that all changes when he gets hold of two special keys, one for the "bell tower" and one for the "steam tunnel." What will Jack do with the keys? What secrets lie in these two places? Will Jack and his father's relationship ever change? You will just have to read the suspenseful book to find out!
I liked The Janitor's Boy because I enjoyed Andrew Clement's writing style. He writes with massive amounts of description. As a result, I could feel his ball of fury as he collided with his Dad in the hallway, getting his foot stuck in a bucket full of water. I could also feel his sweat as he was walking down the "steam tunnel" and could "see" the rats scurrying around his feet. This was my favorite part of the book because the author described it so vividly. I could picture every ounce of what was happening. I think the genre of this book is realistic fiction because everything that happened in this book could have happened in real life. A child could have his Dad be the school janitor and a child could find mysterious places in his or her school. This book also made me have different emotions. I was anxious and nervous when I found out Jack had locked himself in the "steam tunnel" because he was in an unfamiliar, pitch-black place. I know Jack felt anxious because that is how I would feel in the same situation. My favorite character from this book was Jack's father, John, because at first he came across as this man who kept to himself, but this all changes after a fascinating event occurs. At first, he seems quiet and shy but there is really more to him. Reading this book helped me understand how people can be icebergs. This means there is more to them than meets the eye; sometimes part of their personalities are under the surface.
I recommend this book to everyone who likes adventure because in the book there are some very exhilarating and exciting parts. People who like adventure would enjoy the action of this book. I also recommend this book to children who have been embarrassed by their parents before. They will be able to relate to Jack, the main character, in the story.