Standing Tall, The Kevin Everett Story
Written by Sam Carchidi
Reviewed by James M. (age 10)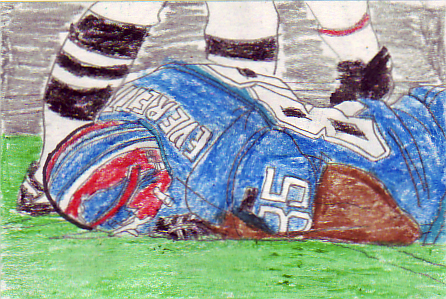 If you are a football fan or like stories about how people recover from major injuries, than Standing Tall: The Kevin Everett Story is a biography for you. Follow the story of Kevin Everett starting with the paralyzing-career-ending-life-threatening tackle at Ralph Wilson Stadium in Orchard Park, New York. Next, journey with him to Millard Fillmore Gates Hospital and three weeks in the dark to walking out of T.I.R.R. Memorial Hospital in Houston. Along the way, he proposed to his girlfriend, Wiande. In this book, you get all the facts on and off the field about the price a professional football player pays just to play a sport.
On a scale of 1-10, I'd rate this book as a 10. I'd do that because this book from the first page on made me want to read a whole lot more and that is at least a 5. I wanted to always know what would happen next, like in the hospital when the medical procedure had failed before so the reader didn't know if it would succeed or not. Another reason is sometimes in books you get information you already know. That means you are basically learning nothing. However, in this book, I learned a ton of facts and information about Kevin Everett, his family and the dangers of football. I also learned the toughness of recovering from an injury. Because I enjoy sports, I enjoyed this book and the way it is written.
Before I read this book, I knew about Kevin Everett's injury but I did not know how things turned out for him. When I read about his transfer to T.I.R.R Memorial Hospital, I knew that meant he had a chance. When he finally walked, I felt happy. I knew that meant he was going to be better.
I would recommend this book to 5th graders all way up to adult. I'd do that because this book is not written like a normal book. It is written like a newspaper article and younger kids probably won't get it.