Diary of a Wimpy Kid
Written by Jeff Kinney
Illustrated by Jeff Kinney
Reviewed by Jake K. (age 9)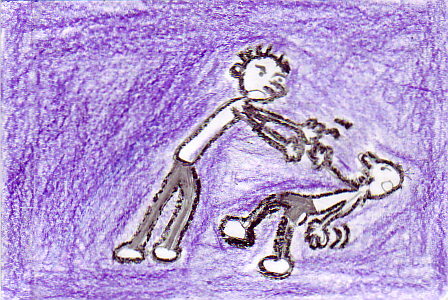 If you like books that are written like a diary, this is the book for you. The main character is Greg. Greg's best friend is Rowley. Greg and Rowley are the weakest kids in the school. Greg hates his younger brother, Manny, and his older brother, Rodrick. Manny gets away with everything. Rodrick bullies Greg a lot and doesn't get caught. Greg hates his life. I hope you pick up this book, Diary of a Wimpy Kid by Jeff Kinney, and see how not to deal with problems.
This book is written like a diary and you only see things through Greg's eyes and how he wants you to see it. This book is funny. One of the funniest parts is when Manny, Greg's younger brother, gets his hands on Rodrick's magazine. There is a girl in a bikini on the top of the hood of a car on the cover. Manny brings the magazine to preschool. This is totally inappropriate but I was able to see the teacher's face. Sometimes I laughed when I was reading this book because every time Greg tried to make things better things just got worse. I would rate this book a 9 because it doesn't have enough details but it is #1 on the New York Times best seller list.
I would recommend this book to people with older brothers that bully them. I would also recommend this book to people who like to keep journals. I would say this book is good for 4th grade through 7th grade because Greg is in 6th grade.